After binding five books yesterday (yes,
five
!), I was eager to get them photographed to list them on my shop. Well, things were going well until the second photo.
Our camera
died.
I saw it coming. Symptoms of its untimely demise included blurry images riddled with lines and poor lighting. There were shadows where there weren't supposed to be any. Not to mention horrible focus of any kind. And then there was the frequent "change battery pack" warnings even though there were fresh batteries used. So it is not unexpected; just inconvenient. I must say our handy li'l Canon Powershot A60 served us well, over the past 5 years we've had it. It's definitely seen a lot of action and has traveled the world with us. Now it's time to move on...but we're staying "in the family".
Our next camera will be the
Canon EOS Rebel XT Digital SLR
. But alas, they just don't sell them around these parts, so to the city we must go (2 hours away). Hopefully we can get away soon; perhaps this Sunday if things go well. In the meantime I may borrow my folks' Sony digital point-and-shoot to tide me over.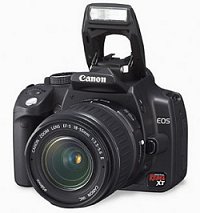 In any case, better photos are in the future... :D
UPDATE: Ordered it online! Should be here next week! Woohoo!!!